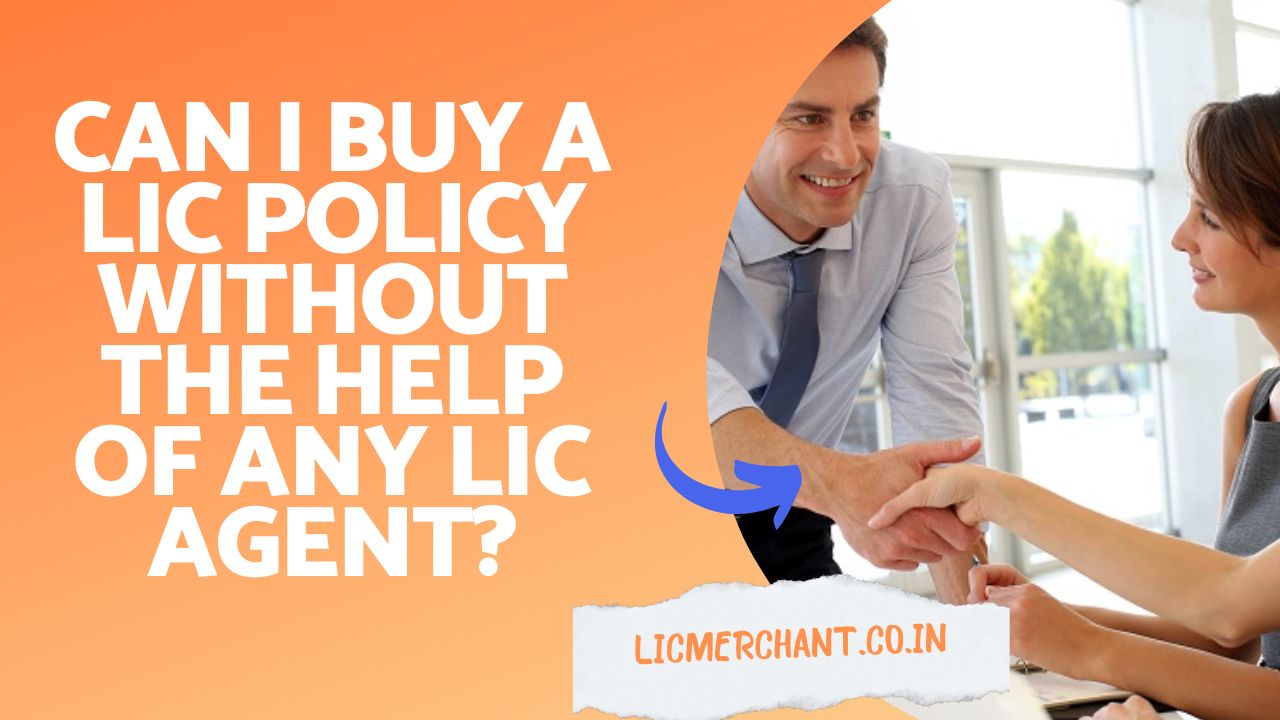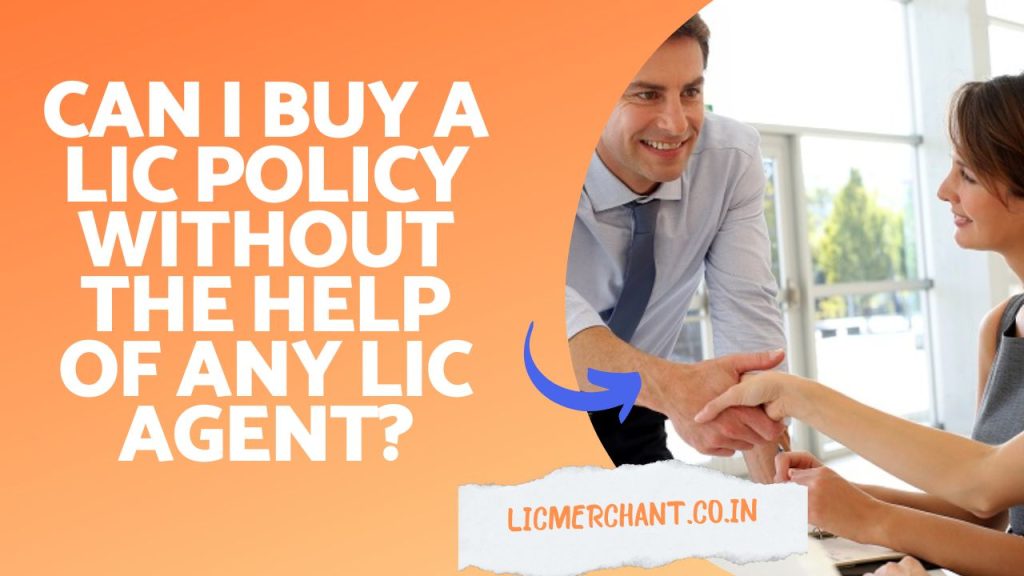 Do you ever think, "Can I buy a LIC policy without the help of any LIC Agent"? If yes, then you're at the right place. Many people are interested in buying a life insurance policy but are unsure of how to go about it. 
There are many life insurance companies and agents out there who can help you purchase a policy, but you may be wondering if you can do it on your own. The answer is yes! You can buy a LIC Policy without the help of a LIC agent.
A Complete Guide: Can I Buy A LIC Policy Without The Help Of Any LIC Agent
Yes, you can purchase a LIC policy without the help of a LIC agent. However, it is important to note that it requires extensive knowledge about the policy types as well as the benefits you may get from them. 
Every information available about every single policy needs to be read and understood to know which type suits your requirement. It may also require a comparison of different policies to make an informed investment decision. 
Many resources are available online perusing which will help you understand more about the various plans offered by LIC that best match your financial goals. 
Once you zero down on one particular plan or policy, the next step would be to visit the LIC website, register with them and buy the desired plan right away without any assistance from agents!
Steps: How To Buy LIC Policy Online Without Agent?
You can easily purchase a LIC policy online without employing an agent by following a few straightforward steps.
You should start by going to the homepage of the Life Insurance Corporation's official website.
Here, you'll be able to click on the "Products" link and view their available policies, features, and sample illustrations. 
It's important to take your time exploring your options before committing as there are often multiple policies with varying benefits for different life situations. 
Once you've found the policy that's right for you and decided to purchase it online, simply follow the instructions provided on-screen to complete the transaction.
Now, click on the 'Buy a New Policy' button.
Select one of the six options available: LIC's Nivesh Plus, SIIP, Tech Term, Jeevan Shanti, Cancer Cover, or Pradhan Mantri Vaya Vandana Yojana. Once you make your selection, simply click on "BUY ONLINE".
On the next page, you will see a 'CLICK TO BUY ONLINE' option at the bottom – just fill in the required fields and provide documentation for your policy completion. 
You will then receive a 9-digit Access Id, along with a One-Time Password (OTP). 
All that's left to do is enter your Access Id and OTP into their system, fill out the other necessary fields, and you're all set! 
It's that easy to purchase a LIC Policy securely online without ever having to leave your home or consult with an agent.
Documents Required To Buy LIC Policy Online Without Agent
Take a look at the list of documents needed to purchase a LIC policy online without an agent.
Proof Of Age:
Any one of the following documents will be adequate for the proof of age:
Madhyamik Admit Card
Pan card
Passport
Aadhar card
Driving license
Proof Of Address:
Any one of the following documents will be adequate for the proof of address:
Voter Id
Passport
Ration card
Driving license
Xerox of Bank passbook
Utility bills such as telephone bills / Electricity bills/gas bills/credit card bills etc.)
Rental agreement
Bank statement, etc.
Photo Id Proof:
Any one of the following documents will be adequate for the Photo Id Proof
Aadhar card
Passport
Voter ID card
Pan card
Driving license, etc.
Proof Of Income:
Any one of the following documents will be adequate for the Proof of Income
3 months of bank statements
Pay slip / Salary slip
Last 3 years of Income Tax Returns
LIC Policies That Are Available Online
The LIC Nivesh Plus Policy
The LIC Nivesh Plus Policy is a great option for those looking to secure their family's future. It offers a combination of life insurance and investment options all in one package, making sure to take care of the policyholder even after they are gone. 
The plan can be tailored to varying ages and budget requirements, with a minimum coverage value starting at INR 1 lakh, so there's no excuse not to have some added peace of mind with this policy. 
For those wanting relaxed options when it comes to premium payment, Nivesh Plus also offers both single and regular premiums which makes that side of the plan incredibly flexible. 
LIC's SIIP
LIC's SIIP is one of a kind. It is great for people who seek to invest not only for long-term gains but also for the security that life insurance gives. The plan offers a dual benefit of insurance cum investment during the whole term of the policy. 
It is a regular premium policy and has no participation feature, rather it takes a unit-linked approach. 
After the 5th anniversary of your policy, you may opt to partially withdraw your units in terms of either a set amount or several units as per the details given therein. 
Overall, this plan serves as an excellent option if you are looking to reap both short-term and long-term benefits.
LIC's Tech Term Policy
LIC's Tech Term Policy is a great way to develop a safety net for your family in tough times. With this non-affiliated, non-profit, pure protection "online term assurance policy," you can feel secure if something terrible happens to you or your loved ones. 
As this policy is only available online and excludes intermediaries, it allows potential customers great affordability and convenience while also providing much-needed protection. 
With the benefits of this policy, your family will be well looked after should the worst occur. LIC's Tech Term Policy is an ideal way to ensure your family is safe and secure.
LIC's Jeevan Shanti
LIC's Jeevan Shanti Insurance plan is an amazing way to ensure you can access financial security in your golden years. You can buy an annuity immediately or at a later date, and even receive a loan against this policy if need be – although it's important to note that there is a minimum purchase of 1.5 lahks INR applied, no maximum limit specified.
LIC's Cancer Cover
LIC's Cancer Cover is a great way to ensure you and your family are financially covered should the unthinkable happen. Not only does it offer varying amounts of coverage up to INR 50 lakh, but with a minimum premium of just INR 2400, you can have that peace of mind without breaking the bank.
Specifically tailored for cancer patients and their unique treatments, this insurance policy provides payment according to the different stages of cancer for those who do become afflicted, ensuring that the financial burden is lessened in any way possible during difficult times.
LIC's Pradhan Mantri Vaya Vandana Yojana
LIC's Pradhan Mantri Vaya Vandana Yojana is an innovative policy designed to benefit people aged 60 and above. With this policy, you can enjoy a guaranteed pension over the next 10 years, with no medical check-up required. 
Furthermore, after 3 years of purchasing the policy, you will be able to take out a loan against it, providing additional financial flexibility and freedom in your retirement years. In short, the Pradhan Mantri Vaya Vandana Yojana provides excellent peace of mind in terms of financial security for senior citizens.
Final Thoughts
You can now purchase LIC policies online without having to visit a LIC office or stand in line at a bank. All you need is a computer with an internet connection and you're good to go.
Not only is purchasing a policy online more convenient, but it's also cheaper. You don't have to pay any agent commissions when you buy a policy online, which means you can save yourself some money.
So what are you waiting for? If you're looking to purchase a LIC policy, consider doing it online. It's quick, easy, and best of all, cost-effective.
If you want to do Merchant Login Please Click here.